Red Giant Entertainment Inc. (OTCQB: REDG), an innovative Intellectual Property company specializing in high quality characters and content for use in a variety of media and entertainm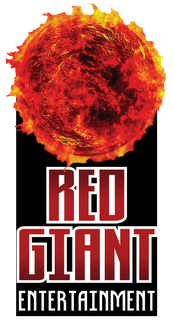 ent, is pleased to report that the Company will be participating in the annual Free Comic Book Day, on May 3, 2014, presented by Diamond Comic Distributors. Powered by free comic book giveaways, the annual event has become an extremely popular initiative that drives traffic to retail comic book stores while introducing new audiences and readers to comic book properties.
Diamond recently announced that it will carry Red Giant Entertainment Inc's full line of comic books throughout their comic book specialty market network. With four comics debuting on FCBD 2014, and more free books to follow, we ask CEO Benny Powell all about the brand, the books, and the Red Giant plan.
Red Giant will participate heavily in Free Comic Book Day, offering the FCBD Giant-Size 4-Pack Bundle FCBD 2014 Edition containing one copy each of Giant-Size Thrills, Giant-Size Action, Giant-Size Adventure and Giant-Size Fantasy helping insure readers have equal access to the entire line.
"The Free Comic Book Day event has become perhaps the single most important day in the industry," said BennyPowell, CEO, Red Giant Entertainment. "We see this as a wonderful and unique way to launch our free Giant-Size line through a venue that the industry is accustomed to, and help retain the audience-building initiative with our continued support of the industry when our Giant-Size line launches a few months later."
The Giant-Size line, scheduled to launch July 2014 as an on-going weekly event from Red Giant, which will produce 1 million free books every Wednesday, to help build traffic and readership for the industry. Red Giant not only benefits from the advertising revenue this venture generates, but also the awareness it builds for its properties and a stronger, healthier marketplace for the entire comics industry.
"Free Comic Book Day was founded on the notion that we, as an industry, are stronger when we work together and build the good habit of reading," added Powell. "Our business is founded on the notion that everyone can win. Fostering literacy and imaginations are at the heart of everything we do, and we look forward to joining our peers in this effort."
Free Comic Book Day was able to learn more about the Red Giant Entertainment's FCBD 2014 comics from Editor-in-Chief, David Lawrence:
FCBD: Red Giant has some interesting ideas and initiatives when it comes to selling comics. Can you tell me a little bit about your overall plans?

David Lawrence: I think that we all grew up loving comics. My childhood would have been very different if I couldn't have walked into a drugstore and stumbled upon the work of Jack Kirby, Steve Gerber, Steve Englehart, Neal Adams, just to name a few. Today I couldn't walk into any old retailer and bump into a spinner full of comics. Today by and large to find them I have to be actively looking for them. That's fine if I'm already a reader but how do new readers get initiated? Where is the next generation of comic book readers going to come from?

We hope to provide at least a part of the answer to that question. By operating outside of traditional distribution outlets we hope to find and connect with those new readers.

So we're presenting a line of absolutely free comics that will be distributed not only in comic book stores but in places where the younger reader that has traditionally been comics entry level demographic shops. Places like game stores and such. And hopefully some of those readers will graduate to shopping in the comic book market at large.

Our plan is to release a free giant-size comic book every week, with two ongoing features like in the old Tales To Astonish days, or even further back the golden-age, when a comic would present a variety of features.

That approach could be a bit of a problem in the traditional marketplace today; will someone pay full price for a comic book where they only like one feature or instead shop for something else? But the free book sort of erases that point of price resistance and makes it easy for the reader to try something new and different.

FCBD: For FCBD, you are offering a 4-pack of comics. Tell me about the books you'll be showcasing during the event.

Lawrence: We've got four titles that we're introducing on Free Comic Book Day, Each title has a pair of brand new features. The stories will give the readers a taste of what is coming. Whether an origin story or an adventure representative of the character the goal is, honestly, to tease you a bit and pull you in.

Giant-Size Action features Wayward Sons, a long running webcomic written by our CEO Benny Powell that has built up quite a following. I guess you could say it's in the vein of Chariots of the Gods or The Eternals, though with a younger, hipper bent. I'm sure those who have followed it online in the past will enjoy the new adventures and it's a greater jumping on point for the newly initiated.

The other feature in Giant-Size Action is Tesla. The scientist, not the car. Tesla was a visionary and his reputation has been revived in recent years when for so long he was nearly forgotten. Our reimagining casts Tesla as a steampunk hero, who alongside his trusty squire Mark Twain...yes, that Mark Twain...fights back against the forces of industrial darkness at the dawn of our modern era. It also features Tesla's ongoing conflict with his arch rival Thomas Edison. In real world 1892 Tesla won the contract to light the entire Worlds Fair in Chicago, defeating Edison, who never really got over it. The Fair provides our jumping off point for the adventures of Tesla, Twain and Edision.

Giant-Size Adventure showcases Duel Identity. Andromeda is a beloved super-heroine, adored by the masses, a role model for girls everywhere. But that's only half her story. She is also, in secret, the world's deadliest spy. Everything the public thinks they know about her is lie. And though she was a spy long before circumstances force her to take on the public role of hero, acting in that capacity changes a person. So her very complicated life grows ever and ever more so.

Pandora's Blogs tells the story of a typically modern teenage girl transplanted to an odd little backwards small town. Just how odd becomes apparent as she realizes the town hides a secret world of monsters. Pandora must use her peculiar skills...in her case a mastery of social media, to combat them.

Giant-Size Fantasy is targeted toward a slightly younger reader, though I hope not exclusively so. It features Magika, the tale of a wonderous land where myths and legends come to life, and a young boy from our world who is stranded there. There is also, by the way, a Magika feature film in post production for 2014 release.

First Daughter is about precisely that; the daughter of the President of the United States. Not only is she a social media star, she's a super-heroine, who is about to learn that she is part of a secret project to protect the United States with a history that goes back centuries. Can she save the world without getting sent to the Principal's office?

GIANT-SIZE THRILLS features DARCHON, a bona fide horror series written by award-winning novelist Mort Castle, and SHADOW CHILDREN, about traumatized youngsters taken to anther realm by a horrific Pied Piper who imbues them with supernatural skills.

Giant-Size Thrills is horror oriented. When terror beyond man's ken comes calling Darchon answers. Our mystical hero is penned by award winning novelist Mort Castle, who knows how to keep the chills coming. It's companion feature, Shadow Children, tells the story of a mysterious Pied Piper who lures lonely, frightened children to his own dark realm. There they are granted strange, magical skills, but for what purpose?

So that's our opening line-up. Each of these books will appear as zero issues for Free Comic Book Day before beginning their runs as ongoing titles.
FCBD: Can you explain your plan beyond the FCBD books? What's the next step beyond your FCBD offerings?

Lawrence: These four books will begin their run as ongoing titles beginning with first issues currently scheduled to launch in July. Of course, what's really unique here is that they will still be free! In effect, with Red Giant it's free comic book day every Wednesday of the year.

This will be handled quite simply. Each week a different title (of the four we showcase in Free Comic Book Day) will appear. So week 1, Giant-Size Action; week 2, Giant-Size Fantasy; week 3, Giant-Size Adventure; week 4, Giant-Size Thrills; and a fifth title for those months with a fifth Wednesday, Giant-Size Quarterly, will even be available.

Each book will be Giant-Size in that it will still have two stories in each, at a whopping 68 pages plus cover on high-quality, glossy paper. These will not be cheap throwaways, but actual collectibles, which should drive consumers to retailers' doors on a recurring basis.

One of the keys we wanted to emphasize, is the diversity of comics, so as you'll note, the vast majority of our stories are NOT superhero tales. Instead, we've got a little bit of everything presented here. We want to promote the medium and are happy to have this growth transfer to sales of our peers!


FCBD: Can you tell us a little bit about you and you company's background within the comics industry?

Lawrence: We come from a mix of backgrounds. I wandered into the business during the indy boom of the eighties, doing a book called Ex-Mutants and a slew of spin-offs for several different publishers. Don't ask me to remember them all; it was the eighties, after all. In more recent years I've done a lot of licensed stuff, working with a diverse group of novelists that has included Jim Butcher, Patricia Briggs and Karen Marie Moning. A couple of those books have even graced the New York Times best-seller lists, but the credit for that should go to the novelists, not me.

Red Giant began is the brainchild of former Marvel writer Benny Powell, who' has dabbled in publishing previously. For some years now he's concentrated on advertising and printing. That experience is how he was able to develop the plan for our ad-supported free giant size line. Comic book characters are everywhere these days but the comic book market itself could use a shot in the arm. As those characters are more visible than ever sales have remained in an historic slump. Benny worked with Diamond to create and offer this line, which we believe will drive readers, hopefully new readers, into comics shops every week.
Further information about Red Giant Entertainment is available on our website at http://redgiantentertainment.com and on https://www.facebook.com/RedGiantEntertainment
---
ABOUT RED GIANT ENTERTAINMENT INC.- Red Giant Entertainment Inc. (OTCQB: REDG) is a Nevada corporation that specializes in intellectual property (IP) development for multiple media platforms and transmedia propagation. The cornerstone of this development is based around the more than three dozen online and print graphic novel properties in various stages of production as well as the cast of thousands of characters from those series. These properties have a readership that numbers in the millions globally. Some of these properties are actively in development into other media such as movies, video games, television, novels, toys, apparel, applications, etc. through either direct production or licensing agreements.