When the world is being taken over by evil demons, Zachary, a faithless man, must step up to the plate so he can protect society from total "demon" dominantion. In the Silver book Anti #1, readers will embark on a brand new adventure filled with unexpected twists and creepy artwork. Not to mention, a bonus The Ride co-feature story!
Here Writer Nathan Edmondson and Artist Paul Azaceta talk about working on The Ride, their FCBD annual traditions and more in this FreeComicBookDay.com Interview.
_____________________________________________________________________________
FCBD: Set your project up for those that might be new to your comic book. What can we expect to see in terms of story and art?
Nathan Edmondson (NE): Paul Azaceta brings an expert eye and pen to this simple tale of evil inclinations and murder. He evokes the atmosphere of the gaudy, pop-oriented '80s with a touch of the Southern Gothic that's creeping underneath it all like so much kudzu. It's a dark and vicious little story we've got!
Paul Azaceta (PA): I think Nathan put together a nice short story that's reminiscent of those great dark episodic shows like "Tales From the Darkside"; a cool short with a dark edge to it. I tried to bring that into the art and hopefully I captured some of the creepiness. I also did a bunch of hand lettering and got to play around with digital zipatone which is a first for me. It was a lot of fun trying to figure out how to adapt my art to a completely black and white story.
FCBD: What has been your favorite part of book or character to tackle?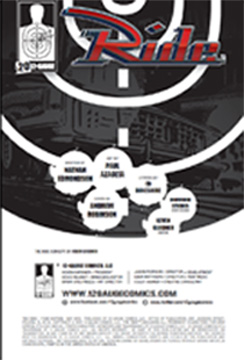 NE: The opening scene is brief, but it's my favorite moment: a "key party" in Athens, Georgia, with B-52s and REM on the record player to set the tone.
PA: One of my favorite things was giving it an eighties look. I grew up with movies like "16 Candles", "Breakfast Club", and "Weird Science", so when I read it was set in 1983 I jumped at the chance to design the look around those kinds of movies. There's a shot early on of a party and I tried to litter it with eighties' fashion.
FCBD: Tell our readers why they should pick your book first on FCBD.
NE: Some readers expect Freebies to just be fun rides that otherwise little more than posters--THE RIDE in this iteration is a fairly deep and very biting recount of darkness and devilry.
PA: Besides it being free? I think we're giving you something new and original. It's something different from me and it's not something you'll get anywhere else.
FCBD: What's your favorite part about being able to work in comics?
NE: The artists with whom I get to work, and the freedom of storytelling.
PA: Not getting up in the morning. Seriously though, I just love telling stories. My life is filled with storytelling of all kinds (TV, movies, books, and comics) and I'm just glad I can help create some of my own.
FCBD: Many newcomers will be picking up comics for the first time on FCBD—what was the first comic you remember reading?
NE: X-Men, back in the early '90s.
PA: It was quite a while ago and I'm not good with numbers but I can remember it being Spider-Man. If I remember correctly he was fighting the Vulture in Las Vegas. It was part of a 3-pack that you used to be able to pick up at Wal-Mart or any newsstand. There was no turning back after that.
FCBD: Where will you be for this year's FCBD? Do you have any annual FCBD traditions?
NE: Signing somewhere! Come find me in the Southeast!
PA: Unfortunately, I'm usually trying to hit a deadline (as always) and I don't have any traditions. However, I will make my way over to the shop and get some free comics. Who can turn down free comics?
FCBD: Looking to the future of the book, is there anything you can tease about what's coming?
NE: The FCBD offering is just half of this dark tale; the second piece will come a few months later. THE RIDE is a fantastic and unique series of stories and I'm proud to offer something to the canon; I don't know what talent Keven has lined up but I'm certain that the Camaro will be squealing tires in the very near future. This is a good time for readers to get acquainted with the series!
PA: I'm never good at teases (that's what writers are for) but I can say that THE RIDE has provided some really great short comic stories and I don't think fans of the book will be disappointed with this story or the new series launching later this summer.
_____________________________________________________________________________
Be sure to visit Freecomicbookday.com often to check out previews of this year's books and to learn more about the creators involved. You can also follow all the latest FCBD news on Facebook and Twitter.