Free Comic Book Day 2012 Silver Sponsor, Arcana Studios, will offer Intristic, a thrilling tale which combines mystery and horror. The cover for the FCBD read was designed by comic book artist Casey Jones, to lure in those that have an interest in dark adventure stories.

Now writer Sean O'Reilly (Kade and Ezra) talks about the anticipated release of Intristic, the book's storyline, where readers can expect to see O'Reilly at this year's event, and much more in Freecomicbookday.com's exclusive interview.
____________________________________________________________________________
FCBD: Set your project up for those that might be new to your comic book. What can we expect to see in terms of story and art?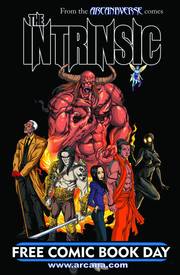 Sean O'Reilly (SR): The Intrinsic is a crossover series incorporating some of the best characters the Arcana line has to offer. The story will pit our heroes against an army bent on ending life on Earth as we know it. A daunting quest, countless enemies, clever foes and a prophetic vision of the worst-case scenario stand between our heroes and their goal: not ending the world.
FCBD: What has been your favorite part of book or character to tackle?
SR: I've thoroughly enjoyed building a narrative that relies on teamwork, operating on a foundation of supernatural rules and combining the noblest instincts of love and sacrifice in the Intrinsic. (I also can't wait to introduce the surprise villain.)
FCBD: Tell our readers why they should pick your book first on FCBD It's free, it's a great kick-off to an exciting new series, there will be violence, demons, sarcasm and a magically-appointed super group.
SR: Why wouldn't you pick it up?
FCBD: What's your favorite part about being able to work in comics?
SR: Creating interesting stories on my terms. Setting every shot, every line, every iota of action that takes place.
FCBD: Many newcomers will be picking up comics for the first time on FCBD—what was the first comic you remember reading?
SR: Green Lantern #1. It got me hooked quite early.
FCBD: Where will you be for this year's FCBD? Do you have any annual FCBD traditions?
SR: I'll be visiting my local comic shop, and seeing what people pick up.
(And snagging a few comics myself!)
FCBD: Looking to the future of the book, is there anything you can tease about what's coming?
SR: Plot twists, strange alliances, a tempting offer and a permanent sacrifice from one of the Intrinsic. It's gonna be great.
_____________________________________________________________________________
Be sure to visit Freecomicbookday.com often to check out previews of this year's books and to learn more about the creators involved. You can also follow all the latest FCBD news on Facebook and Twitter.