For Free Comic Book Day 2012, comic enthusiasts can expect to see to see lots of "thrills" in their freebie reads. The team behind The Overstreet Comic Book Price Guide gives fans lots of "chills" instead, with an insightful look at the world of horror comics. Horror stories such as The Walking Dead, Tales From The Crypt, Tomb of Dracula and Swamp Thing have given comic book fans the creeps for decades, yet they often fail to get their due. The team behind The Overstreet Comic Book Price Guide gives fans an insightful look at the worlds of horror in this new special.

Here Associate Publisher & Executive Editor J.C. Vaughn talks about the publication, working in the comic book industry, his own annual FCBD traditions, and much more in Freecomicbookday.com's exclusive interview.
_____________________________________________________________________________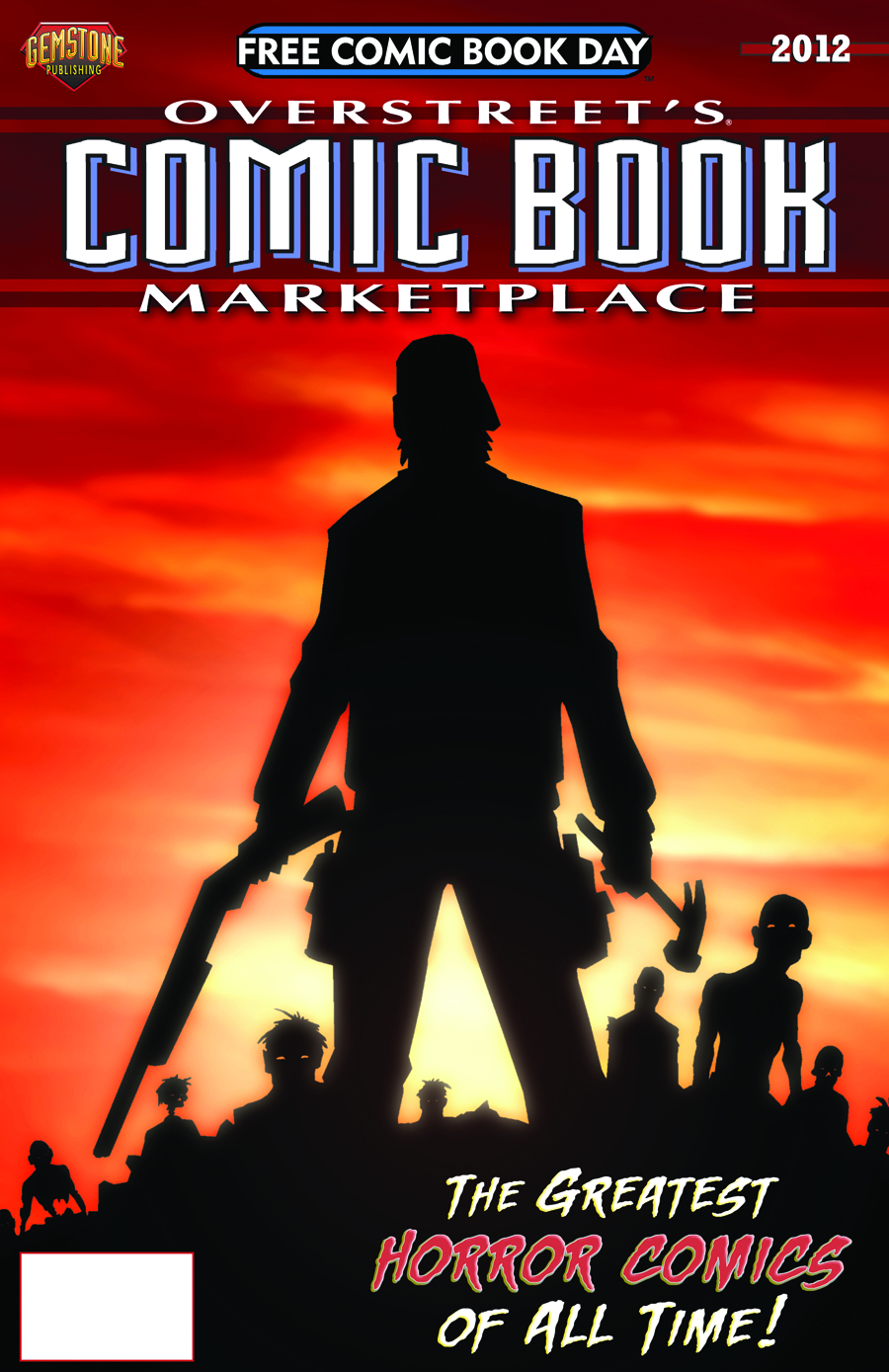 FCBD: Set your project up for those that might be new to your publication. What will it contain?
J. C. Vaughn (JCV): Comic Book Marketplace was a long running publication focused on everything about collecting and enjoying comic books. We brought it back in 2011 as a one-shot and it was very nicely received, and now we're doing this new Free Comic Book Day issue about one of our favorite genres, horror.
FCBD: What has been your favorite part of project?
JCV: As a creator of horror comics myself, it's really enjoyable to work with other creators (and even other publishers) to find out what their favorites are, the things that either got them going or still excite them. IDW's Ted Adams, for instance, has published two of our modern favorites, Locke & Key and 30 Days of Night, but it's cool to find out what horror comic he thinks has stood the test of time. Same with Creepy's Dan Braun and others. Looking at some of the great horror comics of all time is fun, and we have two looks at some forgotten history that will get people thinking.
FCBD: Tell our readers why they should pick your book first on FCBD.
JCV: We're coming from the same place a lot of readers are. This is about the love of comics, the rich history of the field and the exciting places they can take us.
FCBD: What's your favorite part about being able to work in comics?
JCV: I think the best part is when you find that someone has really connected to what you've done. When we're at conventions, we hear that about things we've done in The Overstreet Comic Book Price Guide or our other publications, and the few shows I do each year as a creator I hear it, too. Just like any creative endeavor other than stage acting or performance art, most of the work is done in solitude or at least quietly. Getting the reaction straight from the reader or fan is awesome.
FCBD: Many newcomers will be picking up comics for the first time on FCBD—what was the first comic you remember reading?
JCV: I don't really know. I remember getting lots of comics for car trips with my parents. I didn't connect in a permanent way with them; I just enjoyed them. However, I distinctly remember an issue of Captain America that turned me into a collector. It was practically instantaneous when it happened. Ending up working on Comic Book Marketplace and The Overstreet Comic Book Price Guide was practically a fait accompli.
FCBD: Where will you be for this year's FCBD? Do you have any annual FCBD traditions?
JCV: I usually end up doing one or more store signings. Last year we had a really cool tour of three great shops on Long Island. I don't know for sure what's on the program this year; we've had stores in different regions contact us. We'll have to settle on it soon, but not quite yet. It's always fun, particularly seeing it become more and more of a family event.
FCBD: This issue is a precursor to The Overstreet Comic Book Price Guide #42, which is due out July 11, 2012. What can you tell us about it?
JCV: Starting with a choice between a gorgeous original Catwoman cover by Adam Hughes and a powerful recreation of John Buscema's classic cover for The Avengers #58 by Joe Jusko, we think this is going to be a terrific edition of the Guide. In addition to all sorts of new pricing data, new market reports from the Overstreet Advisors, new feature articles, and new entries to The Overstreet Hall of Fame, we've managed to continue to not raise either the hardcover or soft cover prices of our book again. It's a pretty nice combination.
_____________________________________________________________________________
Be sure to visit Freecomicbookday.com often to check out previews of this year's books and to learn more about the creators involved. You can also follow all the latest FCBD news on Facebook and Twitter.