The Free Comic Book Day 2012 Silver book Witchblade: Unbalanced Pieces will give readers a further look into the supernatural life of NYPD Homicide Detective, Sara Pezzini. With the help of comic book artists Diego Bernard and Fred Benes, writer Tim Seeley takes care of any unfinished business left within the classic Artifacts series.
Now Filip Sablik (Publisher, Top Cow Productions, Inc.) talks about the new storyline, working in the comic book business, the future of Witchblade, and much more in Freecomicbookday.com's exclusive interview.
_____________________________________________________________________________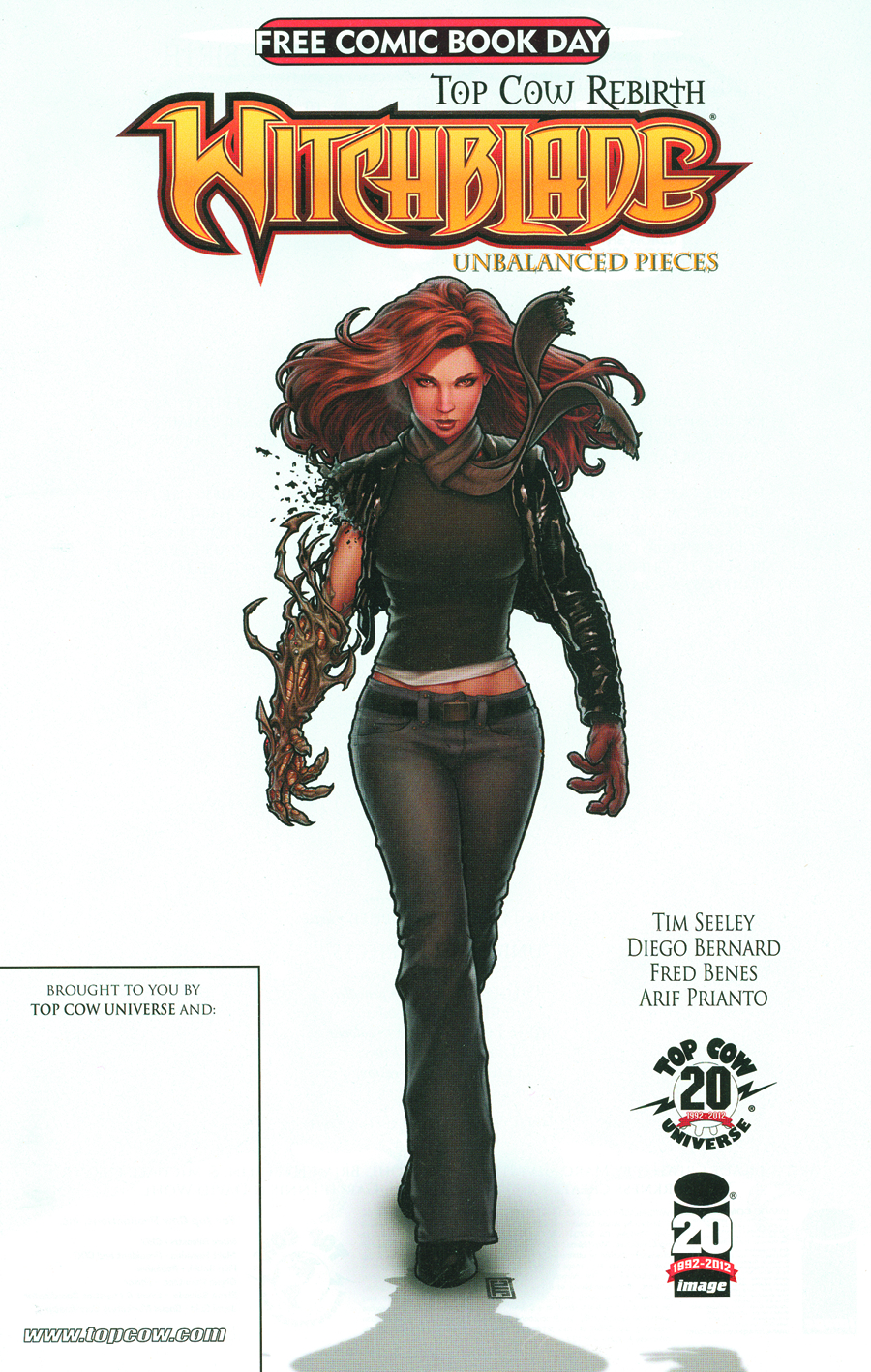 FCBD: Set your project up for those that might be new to your comic book. What can we expect to see in terms of story and art?
Filip Sablik (FS): Witchblade is a mix of noir detective and supernatural action-adventure with energetic, bombastic art.
Witchblade: Unbalanced Pieces Free Comic Book Day edition is a fantastic entry point for both comic readers who have never picked up Witchblade and those who have been hearing about our REBIRTH initiative and want to find out what it's all about. With a story by new writer Tim Seeley (Hack/Slash, The Occultist) and art by Diego Bernard (The Man With No Name, Red Sonja), Witchblade: Unbalanced Pieces introduces fans to Sara Pezzini, bearer of the ancient Artifact known as the Witchblade. The Witchblade most often takes the form of an ancient gauntlet, which bestows on its wielder a variety of abilities including creating weapons and armor. Sara, once a New York City Police Detective, has recently relocated to Chicago and is trying to build a new life as a private investigator. But in addition to the mundane realities of trying to find work, butting heads with local law enforcement, and finding herself; the Witchblade acts as a supernatural weirdness magnet. Underlying all of this, the city of Chicago itself seems to have a vein of supernatural corruption running through it and Sara can't shake the feeling something is horribly wrong. Sounds like fun, right?
FCBD: What has been your favorite part of book or character to tackle?
FS: I've been working on Witchblade for five years, but this year is the first time I've worked with a new creative team. The shake up in Sara's status quo and new creative energy that both Tim and Diego bring to the title has been the best part of working on Witchblade since we kicked off Top Cow's REBIRTH.
FCBD: Tell our readers why they should pick your book first on FCBD.
FS: Tired of spandex tights? Or are you a new reader who loves genre TV shows like Fringe and Supernatural mixed with Law & Order or Castle? Like strong female lead characters who have stood the test of time? Give Witchblade a shot first! Those other books will be waiting for you later.
FCBD: What's your favorite part about being able to work in comics?
FS: The purity of the creativity and storytelling that we're allowed to express in this medium. It's not storytelling by committee, we empower creators to come in and tell the stories that excite them and it shows on the page.
FCBD: Many newcomers will be picking up comics for the first time on FCBD—what was the first comic you remember reading?
FS: I think it was probably an Archie or Disney comic, but the first one that really made an impression on me was Uncanny X-Men #268 by Chris Claremont and Jim Lee. That book made me a comic fan for life.
FCBD: Where will you be for this year's FCBD? Do you have any annual FCBD traditions?
FS: I haven't decided yet. There are so many great stores in the Los Angeles area and I usually end up signing at two stores on FCBD and then trying to pop in to one or two others. It's a long day, but an incredibly fun one. I do sketches for kids that come into whatever store I sign at. My only other tradition is treating myself to a BIG cup of coffee at Starbucks in the morning.
FCBD: Looking to the future of the book, is there anything you can tease about what's coming?
FS: Witchblade: Unbalanced Pieces provides a great introduction for fans and if they like what they read, we'll have an introductory trade paperback collection of the first five issues of Tim Seeley and Diego Bernard's run entitled Witchblade Rebirth volume 1 for only $9.99 in stores at the same time. Plus in May we'll also have the first issue of the next story arc in stores so they can jump right in.
_____________________________________________________________________________
Be sure to visit Freecomicbookday.com often to check out previews of this year's books and to learn more about the creators involved. You can also follow all the latest FCBD news on Facebook and Twitter.