What's @ Comic Shops: DC Comics Announces Batman Day for September 23rd, Harley Quinn Take Over
Jul 27, 2017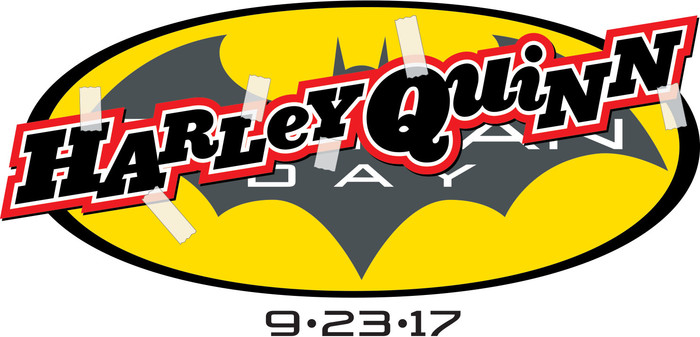 In celebration of Harley Quinn's 25th Anniversary, this year the bubbly Super-Villain will take over DC's annual Batman Day celebration on September 23, 2017. The announcement was made on the DC Harley Quinn: Celebrating 25 Years panel at SDCC. The panel included moderator and current HARLEY QUINN writer Jimmy Palmiotti, and panelists Amanda Conner, Paul Dini, Chad Hardin, Alex Sinclair, Tara Strong and more!

Harley Quinn debuted on Batman: The Animated Series in the episode "Joker's Favor," which originally aired in September 1992. Co-created by the acclaimed Paul Dini (Batman: The Animated Series, DARK NIGHT: A TRUE BATMAN STORY) and Bruce Timm (Batman: The Animated Series, Batman Beyond) Harley Quinn spawned the now popular and plentiful comic series and is one of the fastest growing characters in DC history, becoming a top ten character in only the last 25 years.

DC will celebrate the 25th anniversary of Harley Quinn in a big way, with key new releases in the coming months including, HARLEY QUINN: A ROGUES GALLERY—THE DELUXE COVER ART COLLECTION, HARLEY QUINN 25TH ANNIVERSARY SPECIAL #1, and an oversized anniversary issue featuring Harley's entire cast of crazy characters, HARLEY QUINN #25.

Now, DC announces three new comics for Batman Day, including an all-ages title starring Harley Quinn!

The three Batman Day titles are:


Batman Day 2017 Special Edition #1 reprints Batman #16, the first chapter of "I Am Bane," written by Tom King with art by David Finch. This issue's cover art is by Ryan Sook and features Batman and Harley Quinn in an homage to The Dark Knight Returns #1.

This issue also includes a new, three-page original story written by Amanda Conner and Jimmy Palmiotti with art by Bret Blevins!
Harley Quinn Batman Day 2017 Special Edition #1 reprints Harley Quinn #11, the first chapter of "Joker Loves Harley," written by Amanda Conner and Jimmy Palmiotti with art by John Timms and a cover by Amanda Conner.
DC Super Hero Girls Batman Day 2017 Special Edition #1 features a chapter of the upcoming all-ages original graphic novel DC Super Hero Girls: Out of the Bottle, starring Harley Quinn and written by Shea Fontana with art by Marcelo DiChiara and Agnes Garbowska and a cover by Yancey Labat.
---
Be sure to head to your local comic shop on Saturday, September 23 to participate in the event! If you're unsure where your local comic shop is, use the Comic Shop Locator Service.
Free Comic Book Day was only the beginning! There's more planned for the rest of the year with special events, movies, and more! Keep up to date with the best times to return to local comic shops with the What's @ Comic Shops 2017 Event Card--ask your local retailer ahead of time if they're participating in these events!